About FlashCards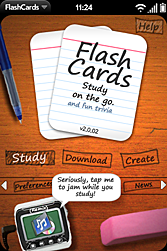 FlashCards is a cross platform study companion for students, teachers, and students are heart.
Utilizing HTML 5 Technologies, FlashCards is always there on your mobile device. Study at your leisure, or cram minutes before that Economics exam.
It also has personality and incorporates many new ideas to help you learn better. The Big Red Button mixes style and function in an exciting fun way.
FlashCards simple and intuitive interface is also perfect for children. Check out the Children's sets in the Editor's picks and start letting your little ones get ahead of their class.
FlashCards v2.0 Features
Simple, elegant user interface
Customize the look and feel - over 300 possibilities
Create sets directly on your device, or:

Search, Browse, and Download Flash Card Sets from the Editor's Picks and User Submitted Online Tools
Search, Browse, and Download directly from Quizlet.com
Search, Browse, and Download directly from Flashcard Exchange
Browse and Download directly from Study Stack

Set Management

Add cards, edit them, create lessons, tag with keywords, and more.

Study Modes

Leitner Boxes
Lessons
Tags (categories)
Active Cards (stacking)
Bookmarks
Learned Cards
Pareto

Never lose your data with the Online Backups
Track's your study time, # cards reviewed, # right, # wrong.
Reverse Mode, Multiple Choice, Hints, Notes, and 3 Sided Cards.
4 Hint methods: Text Hint, Mirror, Blanks, and Jeopardy style Fill-in the Blank
Cards can have Text, HTML, Images, and Audio
Record Audio from the Online Tools, Free!